Donauwelle is a authentic German cake with vanilla and chocolate cake layers that is topped with sour cherries, vanilla cream and a chocolate glaze. This cake is creamy, rich and delicious. If you like chocolate, cherries and vanilla pudding, this cake was practically made for you. Perfect celebration cake especially for your loved ones....
Ingredients :
All purpose flour - 3 cups (380 g)
Baking powder - 3 tsp
A pinch of salt
Cocoa powder - 2 tbsp
Unsalted butter - 250 gms
Sugar - 1 cup
Vanilla extract - 2 tsp
Eggs - 5 nos
Milk - 1 tbsp
Canned cherries, drained - 300 gms
For the Vanilla cream filling :
Milk - 500 ml
Sugar - 1/2 cup
Cornstarch - 1/3 cup
Vanilla extract - 1 tsp
Egg yolk - 1 no
Butter - 250 gms
Semi-sweet chocolate - 200 gms
Coconut oil - 20 gms (or honey - 1 tbsp)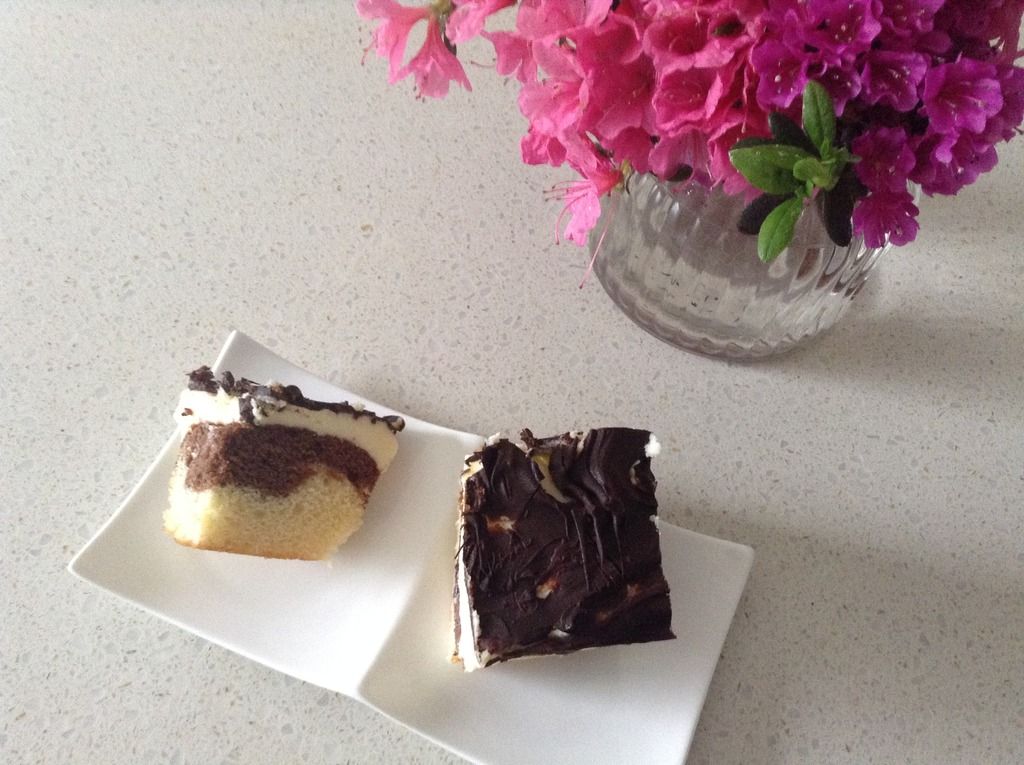 Method :
1. Preheat the oven to 180 C. Grease and line up the baking pan with the parchment paper.
2. Sieve together flour, baking powder and salt. Keep aside.
3. Cream butter, vanilla extract and sugar together. Add in eggs, one at a time, mixing well after each addition.
4. Gently, fold the flour mixture. Pour 3/4th portion of batter into the prepared pan and spread evenly.
5. In the remaining 1/4th portion of cake batter, mix together sieved cocoa powder and milk. Mix until well combined. Spread this mixture over the vanilla mixture evenly.
6.

Add the drained cherries evenly distributed on the chocolate batter and press a bit into the batter. Place in the oven and bake for about 35-40 minutes until a toothpick inserted in center comes out clean.
For Vanilla Cream filling :
7.
Mix the cornstarch with 2 tablespoons of the sugar and some of the milk until smooth. Add the remaining milk, sugar, vanilla paste/vanilla extract to a saucepan, mix and bring to a boil. Add the cornstarch mixture and stir until the pudding starts to thicken. Add the egg yolk and mix in. Take off the heat and let cool down a bit, then place a piece of plastic wrap right on top of the pudding so it does not develop a "pudding skin". Let cool down completely.
8.
For the vanilla cream add the butter to a large bowl and mix on high speed until light and fluffy. Add the cooled pudding one tablespoon at a time and mix in. Make sure the pudding and butter have the same temperature – room temperature! If one is too warm or cold, the cream might go bad, cause the two ingredients won't stay together. Spread the vanilla cream on top of the cooled cake and smooth out the top. Place in the fridge and let cool down for at least 1 hour.
9.
Chop the chocolate for the glaze and add together with the coconut oil to a bowl. Place that bowl on top of a saucepan with simmering water and let the chocolate and coconut oil melt slowly. Mix until smooth, then take off the heat and let cool down for a moment. Pour over the cake with the vanilla cream and cover everything. Wait a moment until you can see that the chocolate thickens again, then use a fork and decorate the cake with a wavy pattern. Let cool down completely, then cut into slices and serve.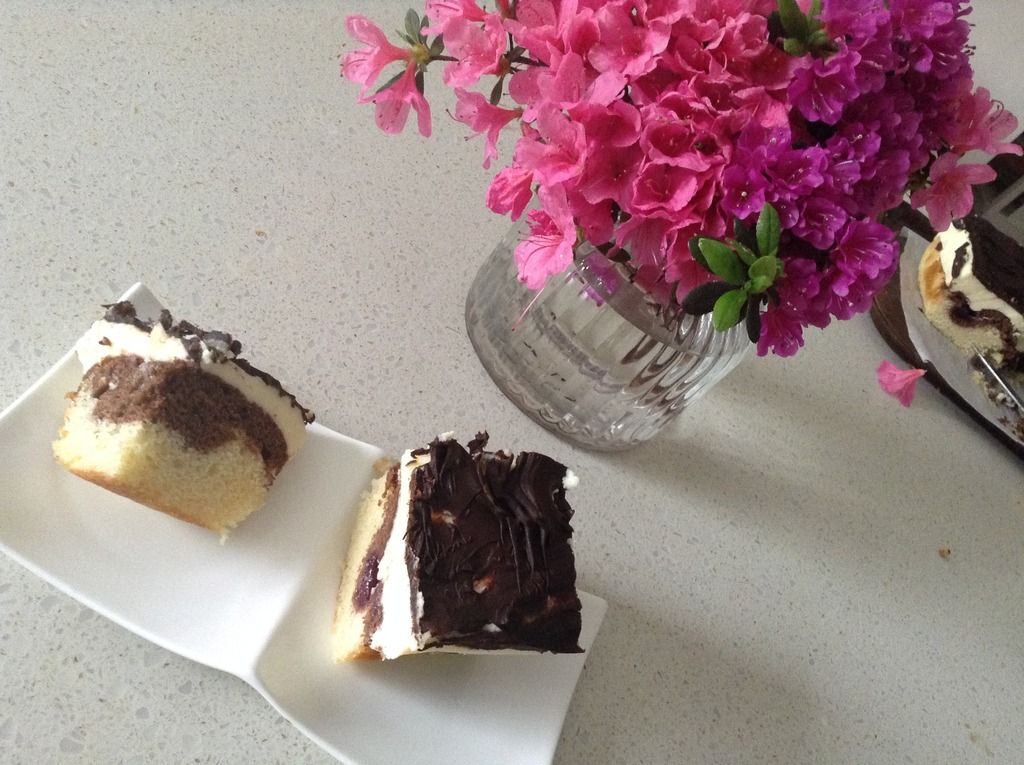 Happy Baking :)